The "New Normal" for Organizational Learning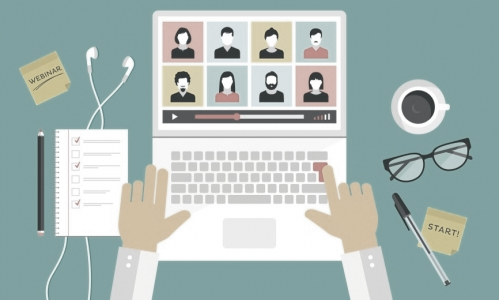 Published September 16, 2020
It's hard to believe the first day of fall is less than a week away. It is also hard to believe we're over six months into the pandemic and the stresses and unexpected twists and turns that have come with it. In the move from face-to-face learning to virtual these past months, we have had to adapt and learn and grow. I personally have added "virtual program designer and producer" to my resume and skill set. I could have never imagined this would be a large portion of my future job when I was completing my degree in organizational psychology. Much of this learning has been beneficial, and there are, of course, some losses.
One of the hallmarks of our programs is the cohort model which provides opportunities for vicarious learning and friendship building, as well as social support and peer pressure to practice and grow. We are keenly aware of the lack of informal relationship-building time we have in this new virtual space, the loss of casual conversations during the lunches or over breaks. While we always felt this was an important element of our programs, now that people are working from home, this informal social interaction and exploration is even more precious. Not only are employees and participants experiencing this loss of casual interactions, so are our teachers and facilitators. Faculty are often not in the same physical space, so they will have less time together to discuss ways to be agile and adapt to the energy of the group. And perhaps the most significant problem or risk we see is the increased expectation and reliance on participants to take responsibility for their own engagement, learning and completion of activity when many of them are busier than ever, and more socially isolated.
As we are stabilizing and trying to get our footing around what the "new normal" is, we are recognizing and acknowledging that virtual programs have gained popularity among clients and systems and will likely be sticking around for the foreseeable future. Therefore, we are striving to be intentional about reflecting on our learnings and insights from this journey into the virtual world. It's been exhausting for sure, but we have learned so much along the way about what it takes to create a successful virtual engagement.
What follows are some of our thoughts about accommodations to address the elements we think are most important if we want to retain some of the particular powers of very relational programs. We have worked and continue to work hard to get creative in the ways that we can foster relationships and support the personal and professional development of leaders and coaches.
Elements of an Impactful Virtual Organizational Intervention:
Breaks: It is essential to design into the content plenty of breakouts for discussion and plenty of breaks for rejuvenation. Engaging with people for long periods of time, in only a large group virtual configuration often allows people to disengage or blend into the background. We want people to stay energized, engaged, and we want to hear their voices and ideas.
Small Group Discussion: Creating small discussion groups wherein individuals learn from one another and practice new behavioral routines are essential to breaking up the large group teaching and facilitation.
Pairing Up: Accountability partners and practice pairs provide relational support and a place to discuss reactions to content and action learning commitments. They also promote the sustainability of the application of learning and behavior change.
Intersession Work: Incorporating self-managed learning assignments between sessions (via webinars, videos, curated readings, etc.) to both preview and review key content help to engaged participants in creating new behaviors and routines.
One-on-One Time with Faculty: To further support the learning and accountability to integrate the content, we have often included more one-on-one time with faculty members via coaching conversations or post-session "office hours" to answer any individual questions. This way faculty members are able to get to know participants better and vice versa. It also helps to hold the entire learning journey of an individual as we "check-in" with their progress.
Executive Support: As always, but even more so, utilization of top organizational leaders and executives provides context and encouragement of the importance of their participation and engagement in the work. Executive presence also allows an opportunity for participants to engage as members of the extended leadership team of the organization and take responsibility for the change.
Holding the Large Group: Although breakouts and small groups are essential, don't neglect the importance of focusing on the large group as a whole. Leadership requires an ability to think and act systemically and organizationally. Time spent on this level of system helps participants to learn about areas beyond their purview, and learn from the perspective and experience of other leaders.
These elements taken together create a dynamic experience with lots of contact points and opportunities to practice. We are optimistically engaged in the challenges and opportunities that come with taking our programs and offerings virtual. We always want to co-create these programs with our associates, our client systems, and our community, and we want to hear your ideas and reflections on this major societal shift. How have you made the shift professionally and personally to teaching and learning in this virtual world? How have you been successful and what have you learned from this new experience?

You're feeling this too, right? Crazy busy? Overworked? Exhausted? It seems everyone is. I've casually polled people across organizations and industries. Everyone is stressed and tired. The past several months, we've switched into overdrive. Gone are the pandemic days...
read more